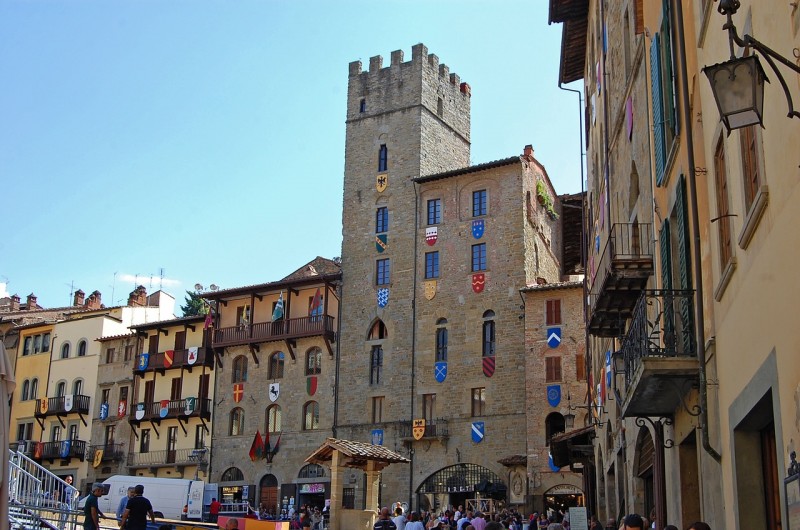 Less than one-hour from Florence by Regionale Veloce train, Arezzo is another gorgeous city in Tuscany that you must visit!
As spending four years there during my undergraduate studies, I got to know the city very well and I really loved it. Based on my experience, there are four reasons why you should spend at least one day in Arezzo:
High quality food: pici, crostini neri and vino toscano.
Fascinating history and tradition: La Giostra del Saracino.
Worldwide cinematographic success: Benigni's "Life is Beautiful" (1997).
Trendy place for shopping: the best Italian clothing brands.
Food 
Arezzo offers excellent local food, from antipasti to typical pasta fresca, that are all worth trying. Having lunch or dinner in one of the cozy restaurants in the city center of Arezzo is absolutely a must. It's easy to find a place that inspires you by walking from Corso Italia to the beautiful Piazza Grande, or near Piazza San Francesco where the church containing Piero della Francesca's famous Renaissance frescoes stands. I enjoyed strolling along the small, dimly-lit streets in search of a new vineria (winery restaurant). I fell in love with the atmosphere of the old-fashioned settings and style, coupled with mellow music. Once you choose a restaurant, relax and take a look at the menu! First, try the crostini neri, a typical bruschetta, made with fegatini di pollo (chicken livers). Ask the waiter for some suggestions about good, local wines (possibly red), other than Chianti, and for the primi piatti, choose a delicious dish of pici toscani (thick, rolled pasta, similar to spaghetti).
Eternal medieval city: La Giostra del Saracino
The city has a lot of history and traditions that are shown off by the local people who proudly recall them every year. In June and September Arezzo celebrates the medieval Giostra del Saracino. This important event dates back the twelfth century (it was even mentioned by Dante in his Divine Comedy in the "Inferno"). It is very similar to the famous Palio in Siena, when knights from different quarters dress in the medieval costumes of that era and challenge each other. The quarter that wins the game celebrates its victory in their neighborhood with music and tons of food. Of course every quarter is invited to take part in the victory celebrations. I really enjoyed celebrating with the 'winners', and watching the nonne (grandmothers) prepare the winner's feast of pasta and meat. It is a blast! You can join the fun either the last Saturday of June or the first Sunday of September, and get a glimpse of life in the Middle Ages!
The City of Awards
Tourism increased in Arezzo after the release of Roberto Benigni's famous "La Vita é bella" ("Life is Beautiful"), which was praised in the US and won Academy awards in 1999 for best actor and best foreign film. Lots of tourists visit the precise locations featured in the film.
In the city center you will run across the beautiful Piazza Grande (where Benigni rode his bicycle) and the historic Cafe' dei Costanti, which is one of the best sandwich cafes in town and a place where both tourists and aretini (people from Arezzo) enjoy hanging out. Whether you love the movie, are a Benigni fan, or are simply curious about these fascinating places, you definitely have to visit Arezzo! 
What to do in Arezzo 
Walk to Piazza Risorgimento from the train station to start your shopping tour among the chic, high-end shops. You will find several stores, with the best and most famous Italian brands, like Dolce & Gabbana, Versace and Gucci, but also big clothing stores like OVS and many other Italian brands at a convenient price. Take a break and enjoy a delicious ice cream in a gelateria, or an espresso in some of the comfortable, relaxing cafes that you can find in the centro (center) by going up to Corso Italia. I personally like the bars or cafes close to Piazza San Francesco because it is a gorgeous area and is always full of people, especially students.
Have you ever been to Arezzo? Which was your favorite spot? Let us know!
Comments
comments