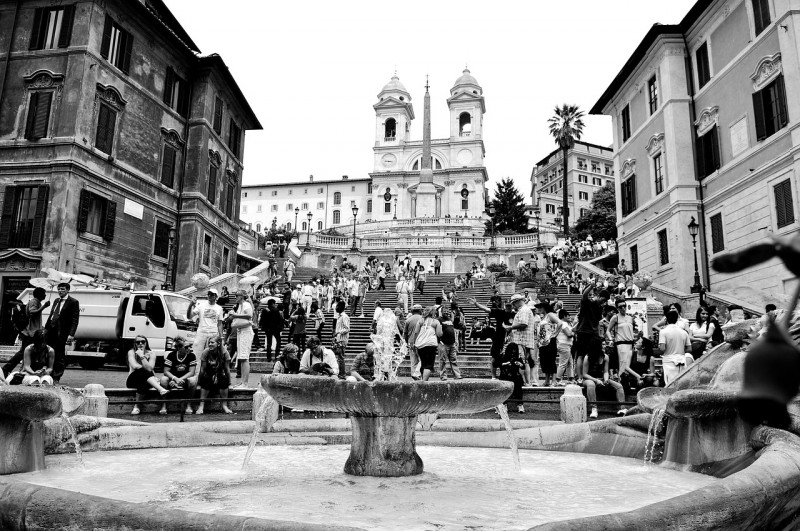 What are two things you're almost guaranteed to never find a shortage of in Italy? Answer: history and pasta. And the former is sometimes alive in places where you least expect it – such as the Italian hotels where you might find yourself staying during part of your next vacation. As any student of politics or cinema will tell you, hotels have often had a storied role in shaping or otherwise influencing world events.
5 Italian Hotels that Changed the World
1)  Hotel Hassler, Rome
The first hotel of our list, brings us the focal point of so much world history, Rome. From its fabled location on the Piazza Trinità dei Monti overlooking the Spanish Steps, the Hotel Hassler has seen a bumper crop of royals and celebrities come and go (and often, come back) since it opened in 1893. It's a luxurious aerie from which to contemplate the beauty of the Eternal City – and that's not all. The setting is also conducive to battle plans and strategic discussions. During World War II, following a restructuring in 1938 (and a temporary renaming by Mussolini), the Hassler served as an American Command headquarters. In happier times, the hotel has hosted the likes of Picasso, the Beatles, and Princess Diana. And rock royalty like Duran Duran (of whom Princess Diana was a fan) have given interviews from the fabulous terrace of the Presidential Suite Penthouse.
2) Palazzo Sasso, Ravello
Let's go a bit further south to Ravello, a beautiful small town that seems to hover over the Amalfi Coast. One of the most legendary Italian hotels is the palatial Palazzo Sasso, built in the 12th century and built to last. Beauty and drama…it was from here that General Eisenhower planned the pivotal Battle of Monte Cassino in 1944. Today the fully refurbished property has 32 deluxe rooms and 11 suites, most with delicious Mediterranean Sea views.
3) Villa Feltrinelli, Gargnano
Circling back up north, we come to the Hotel Villa Feltrinelli, which like the Palazzo Sasso was not always a hotel. This neo-Gothic mansion was built on the shore of Lake Garda in 1892 for the wealthy Feltrinelli family. The eclectic architectural style may not appeal to everybody, but this latter-day bastion of luxury regularly appears near the top of many publications' world's best hotel lists. As far as lakeside loveliness goes, it's hard to find much lovelier. And the villa provided a nice cage indeed for Mussolini, who was detained here in the 1943-1945 period after the villa had been requisitioned by the Nazis. Goodness knows how much more trouble he could have stirred up had the fascist not been holed up in what is now a full-service hotel with 21 gleaming suites and loads of precious antiques.
4) Hotel Cipriani, Venice
Moving east, who wouldn't stop to pay their respects to the Queen of the Adriatic, Venice? The lagoon city is home to the legendary Hotel Cipriani, located a short boat ride across from Piazza San Marco, on the tip of the island of Giudecca. From Simon Le Bon to Elton John, there's hardly a famous name in show business that hasn't appeared in the hotel's Golden Book. From Martin Scorsese to Clint Eastwood, to Al Pacino, Orlando Bloom and even Mikhail Gorbachev, movers and shakers of the world have alighted here since the hotel opened in 1958. The Olympic-sized swimming pool, filled with filtered sea water, is as legendary as the flawless setting.
5) Grand Hotel Tremezzo, Lake Como
This dispatch would not be complete without mention of a fifth Italian hotel that changed the world, in a quiet but also indelible way: the epic Grand Hotel Tremezzo, on the shore of Lake Como. As far as classic European hotels go, this one is a beauty – etched in history not only by the spectacular location, but by one of the most famous acting legends of all time: Greta Garbo. At the end of the classic film Grand Hotel, a Hollywood blockbuster in 1932, Garbo's character intones, "It'll be sunny in Tremezzo!" Well, rain or shine, this Art Nouveau grand hotel sets a standard for luxury and true Italian sense of place. The view over Lake Como from the Greta Suite is incomparable – like Garbo herself, and like Italy.
Which of these Italian hotels would you stay at?
Comments
comments