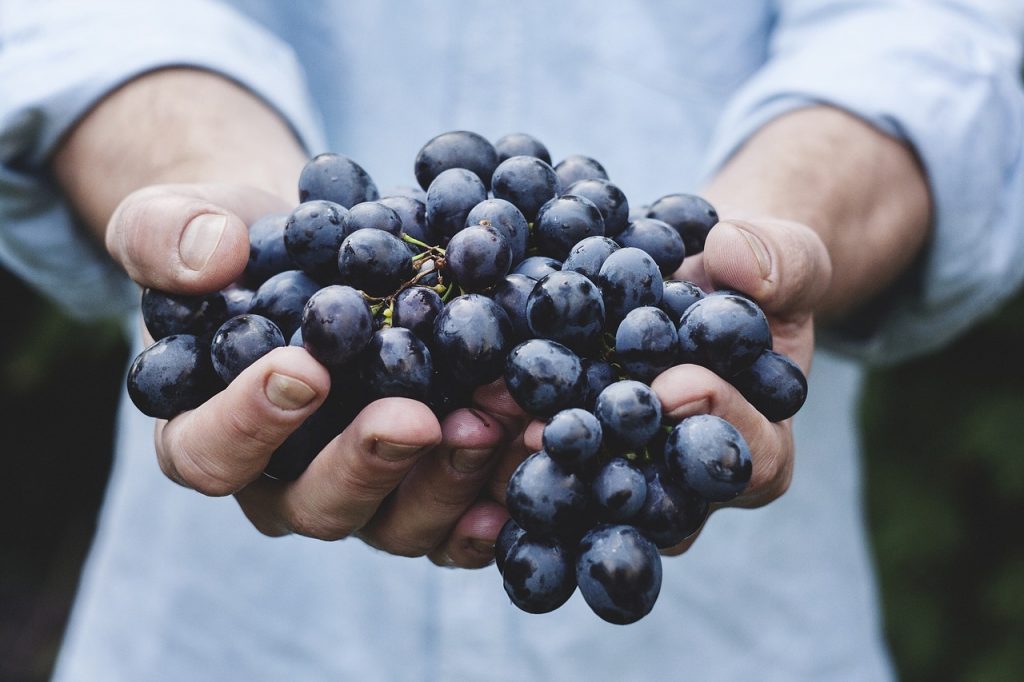 Lots of research has determined that red wine is good for one's health, but…wine isn't just for drinking any more. In the past decade European spas have started to offer therapy centered on treatments based on grape juice and polyphenols extracted from grape seeds: food for the skin. Experts say that grape seed polyphenols are a thousand times more effective than vitamin E in the fight against free radicals.
Polyphenols & Grape Sees
Polyphenols are natural antioxidants that exfoliate, detoxify, cool inflammation and soften and repair damaged skin. Sixty percent of extractable grape polyphenols are in the grape seed, thirty percent are in the grape skin and less than 10 percent are in the pulp. Red and purple grapes have significantly more of the polyphenol known as resveratrol than green grapes, according to the American Institute for Cancer Research. This is because red and purple grapes are fermented longer with the grape skins.
The grape seeds, instead, have strong anti-aging properties that fight damaging compounds in the skin called free radicals. Both seeds and skins were always thrown away after the grapes were crushed to make wine – or they were until 1990 when a French couple in Bordeaux started experimenting with methods for stabilizing the polyphenols.
Suddenly these grape by-products had a use that savvy cosmetic chemists were quick to exploit in exclusive beauty products and spa treatments. The grape seeds and skins are dried and ground into a fine pulp. Other natural ingredients are added to the pulp to combat possible irritation on human skin from the grape's natural yeast.
Vinotherapy Spas Spa in Italy
Relais San Maurizio, Piedmont
In 1999, the world's first vinothérapie spa opened at the Château Smith Haut Lafitte vineyards near Bordeaux. This was followed in 2003 by the Caudalie Spa at the 5-star Relais San Maurizio in Italy's Piedmont region. The Relais is spectacularly situated amongst the famous vineyards of the Langhe. A former monastery, the vinotherapy treatments take place in the highly original cellars under dry stone vaults.  Ancient wood combined with centuries-old stones and Italian mosaics creates a refined atmosphere.
Several of the most popular treatments are Wine Barrel Baths using a warm jacuzzi-type whirlpool bath that is filled with grape residue and essential oils; Wine Wraps in which crushed grape seed, red wine and herbs are boiled together and then a large towel is soaked in the liquid and wrapped around the client along with a heated layer; and Grape
Scrubs where sea salt, honey, grape seed oil and grape seeds are mixed together to create an invigorating treatment that exfoliates and moisturizes.
Relais Il Falconiere, Tuscany
Treatments are most popular in areas where there are many wineries because spa-goers in those areas tend to be in a wine-friendly frame of mind. Another place to experience revitalizing vinotherapy treatments is the Thesan Etruscan Spa at Select Italy's Portfolio hotel, the Relais Il Falconiere in Tuscany. And according to the grapevine, Madonna, Eva Longoria, Kirsten Dunst and Sara Jessica Parker are all said to be vinotherapy followers. Not just a passing fad, vinotherapy is the ultimate treat for wine-lovers who also enjoy a day at the spa.


Comments
comments