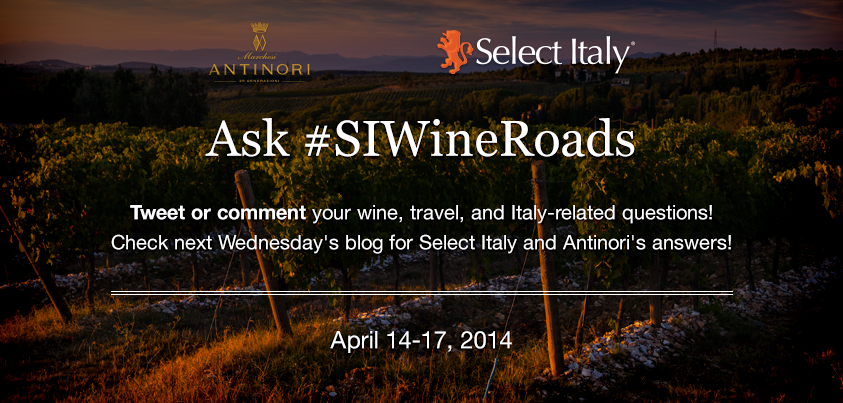 Thank you for participating to Ask #SIWineRoads! Here you will find a complete collection of your questions during the Campaign with answers directly from Antinori themselves! Many thanks to Antinori for their extensive responses!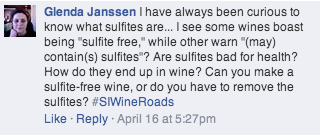 "Sulfites are added to wine to preserve it and can be found in many other elements that are part of our daily diet in even bigger quantities (e.g. nuts, apricots, fruit juices). If assumed in limited quantities, they're not harmful to health. Sulfites are often present in wines and according to the law producers must specify their percentage".

"Tuscany is definitely the land of red wines, but it also boasts notable white wines such as those from our estates of Le Mortelle, Guado al Tasso and Monteloro".

"Every time is good for visiting and spring-summer is definitely the best period of the year. For more information you can book through Select Italy Travel."

"The best way to promote these wines is to have people taste them".

"Not yet, but you can follow our A mag and social channels (Facebook and Twitter) to keep yourself updated with the latest news".

"Thanks for your request! You can find Neprica at Binny's drugstore in Chicago".

"Antinori owns 15 estates in Italy and 7 all around the world; to know more, visit our website www.antinori.it".

"There are no specific factors that differentiate Tuscan Sangiovese from that growing in Molise, but the terroir is definitely important".

"Bramito del Cervo Umbria IGT is the perfect match for this recipe".

"It depends on the period of the year that you intend to plan your visit. Surely Florence and the surrounding area are very popular, but for example you can enjoy beautiful views just riding around on a Vespa in the Chianti region. If you prefer the seaside, instead, the Maremma region and Elba Island are not to be missed. All of these visits can be arranged and customized with Select Italy". 

"For the first question: You should be well aware of the purpose, whether it's for personal use or to be given as a gift, but in either case, just let your taste guide your choice. For the second question:  We use both of them, it also depends on the kind of wine and its age".

"Yes, we suggest Scalabrone".

"In addition to selling wine, Antinori is involved in the business of catering and hospitality in general thanks to the opening of a new winery ACC".

"Antinori always pay attention on eco-sustainability, especially in some estates where this become the most important aspect of production. A good example is our "Le Mortelle." 
"The original idea behind the construction of the cellar is to allow tradition and innovation to coexist in the same place and to remind our visitors to never forget that this whole conception is the place where wine is produced".

"We recommend Escalope of cod on cous-cous served with vegetables and mayonnaise with lemon ginger. You can take a cooking class with Osteria di Passignano by booking with Select Italy. You can also take a special tour, visit and wine-paired meal at Badia a Passignano and the Osteria through Select Italy at this link".

"For the incoming summer season we recommend the Vermentino Guado al Tasso".
Do you use any other aging vessels besides botti and barriques? #SIWineRoads @Selectitaly @AntinoriFamily

— Gennaro Carafa (@Gennarocarafa) April 16, 2014
"We also use stainless steel barrels".
I heard you have stakes in American vineyards – can you tell me more about that? Can I visit? #SIWineRoads @Selectitaly @AntinoriFamily — Maya Khloé (@MayaKhloe) April 16, 2014
"You can visit Stag's Leap Wine Cellars or Antica in Napa or Col Solare in Washington State. www.anticanapavalley.com, www.colsolare.com, www.cask23.com".
The #antinori name is well known, what is the biggest struggle in promoting #wine outside #italy? #SIWineRoads @selectitaly @AntinoriFamily

— Vino Travels (@VinoTravels21) April 16, 2014
"It depends on the country where you are promoting the wine, as every place is a new challenge. The real challenge, though, is to be able to pass on the passion for the product and for quality".
You've been making wine for 26 gen, but is this the first winemaking family in Tuscany? #SIWineRoads @AntinoriFamily @Selectitaly

— Marco Zuccarello (@Zuc21) April 15, 2014
"In this area and in Italy in general, wine has been produced since before Greeks and Romans and so although we've been around a while, Antinori is not the first family in wine production".
What ever happened to that millennia-old vitis vinifera vine discovered @AntinoriFamily in 1983? @selectitaly #SIWineRoads

— Chris Marchino (@ChrisMarchino) April 15, 2014
"It was not the Antinori Family to discover the millenia-old vitis vinifera vine as we purchased the property in 1987. In fact vitis was discovered in 1983 nearby Badia a Passignano".
Do you have anything else you're dying to ask Antinori?
Comments
comments