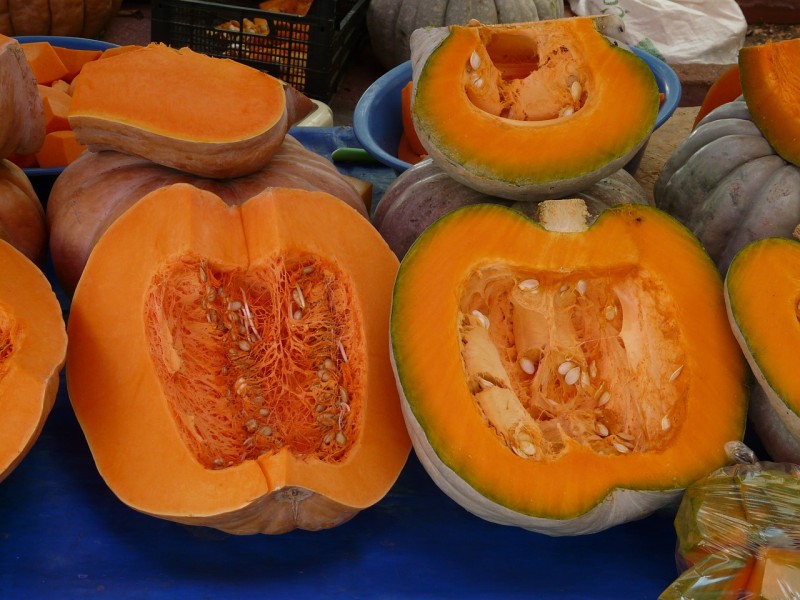 That time of year is coming, when the trees shed their golden and red foliage and temperatures decrease along with the length of the days. In northern American and Italian cities, restaurants close their patios, and warmer clothes are brought out of the closet. The lack in color does not only reach the bare branches hovering over main squares and piazze alike, but is also apparent in the change of seasonal foods available at markets. Bright summer foods resembling the sun in which they grew are replaced by autumn's changing colors of red apples, yellow root vegetables, and orange pumpkins. Italians are especially aware of the seasonality, or stagionalita', of ingredients, as the shift in market produce dictates a change in dishes served.
Zucca in the Italian Cuisine
Several of the autumn vegetables to appear in market stalls are gourds, once considered a staple in la cucina povera, or the cuisine of the poor, in Italy. However, in recent years, the zucca has made progress and is now being recognized by more and more Italians as not only edible, but delicious (although you will find market vendors that react with surprise if you try to buy their gourds for eating and not decorating!). The northern part of the Italian peninsula uses  pumpkin and squash in various ways: with sage in Emilia-Romagna and featured in Lombardia's ravioli di zucca. Presently its creative pairing with the famous northern Italian risotto has been becoming increasingly popular in northern Italy and in the United States.
Pumpkin Risotto (Risotto alla Zucca)
Risotto alla Zucca can be made with either butternut squash or pumpkin (the term zucca refers to either-or). Since it is mainly prepared when squash are in season and at the peak of their flavor, it requires few other flavorings or ingredients, following the general Italian method of simple and fresh cooking. It is the perfect meal for a chilly night, a hearty, healthy comfort food that can be eaten by itself or served as a primo course, perfectly accompanying a secondo of beef. The next time you are at the market or grocery store, pick up a butternut squash or pumpkin and try this recipe for pumpkin risotto, courtesy of La Cucina Italiana.
Pumpkin Risotto Recipe
3 cups diced (¼ inch) peeled, seeded Japanese pumpkin (kabocha squash) or butternut squash
Salt
2 tablespoons extra-virgin olive oil
2 large shallots, thinly sliced
1⅓ cups carnaroli rice
½ cup dry white wine
2½ cups lower-sodium chicken broth, heated to a simmer
2 tablespoons heavy cream
1 tablespoon unsalted butter
Freshly ground black pepper
2 ounces Parmigiano-Reggiano cheese
2 tablespoons finely chopped flat-leaf parsley
Cover pumpkin with cold water by 1 inch in a medium saucepan and bring to a simmer; add generous pinch salt and cook until pumpkin is tender, about 4 minutes. Drain, transfer to a blender, add 3 to 4 tablespoons water and purée until smooth.
Heat oil in a heavy, large saucepan over medium-low heat. Add shallot and cook, stirring occasionally, until shallot is softened, about 7 minutes. Add rice and cook, stirring constantly, until rice is translucent, about 5 minutes.
Add wine and cook until wine is mostly absorbed, then add 1 cup broth and cook, stirring, until liquid is mostly absorbed, 5 to 7 minutes. Add ½ cup more broth and cook, stirring, until mostly absorbed. Repeat once, then add pumpkin and stir to combine. In ½ cupfuls, add remaining broth, stirring until each addition is mostly absorbed before adding the next, until rice is tender yet still slightly firm to the bite (you may not use all the broth).
Stir in cream and butter, and season with salt and pepper to taste. Divide risotto among bowls; shave cheese over the top and sprinkle with parsley. Serve immediately.
Your pumpkin risotto is ready! Buon Appetito!
Have you ever cooked Italian risotto?
Comments
comments