This article was originally published on February 10, 2010 from our former newsletter Espresso by the late Andrea Sertoli.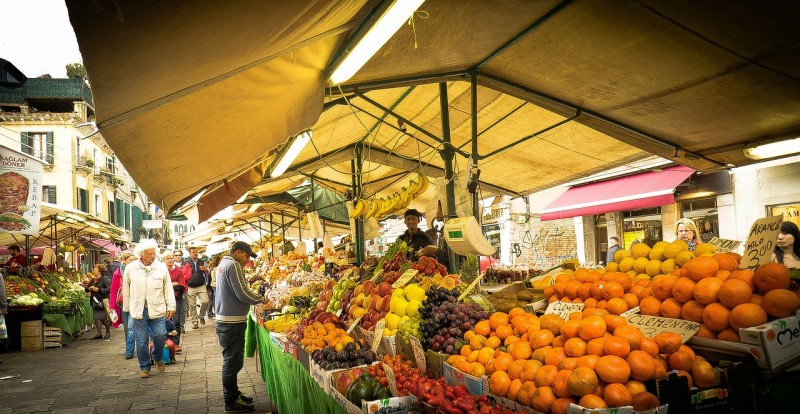 "Farmers Markets are the key to Italian cuisine," this sentence definitely encapsulates the secret of la cucina italiana. In it are embedded the core components that make it so successful – and accessible – across the planet: it is local, it is fresh, it is healthy.
The ever changing variations of the taste of the dish is the result of the use of local ingredients: take any grocery product – tomatoes, beans, greens, you name it – and you will find an astonishing number of local varieties, each unique and with its own tasty twist. This is what makes the same dish vary slightly from one tasting to the next. Moreover, there's Italian cuisine fantasy, creativity and a 3,000-year long (and counting…) "culinary lab" that gives us the pleasure of taste of which we never tire.
If this variety has been preserved and this process is thriving today it is because of the existence, the uniqueness and the vibrancy of the local farmers' markets. These markets are the "hubs" of taste, besides being unique spots of concentrated humanity. They are the common denominator across the country's 20 regions and its 20 regional cuisines and where the fresh and healthy produce is distributed. They provide the platform of ingredients for a spectacular palette of taste.
This issue is a small tribute to this special part of town and country life. We have selected for you: Bologna, Roma and Siracusa to illustrate the trans-regional value and the specific identities of the Italian farmers' market. In your traveling to Italy, we highly recommend that you stop by one of the local markets: chances are that these moments may become some of the most pleasant of your Italian adventure. Enjoy.
 Check out Select Italy's Food & Wine experiences!
Comments
comments