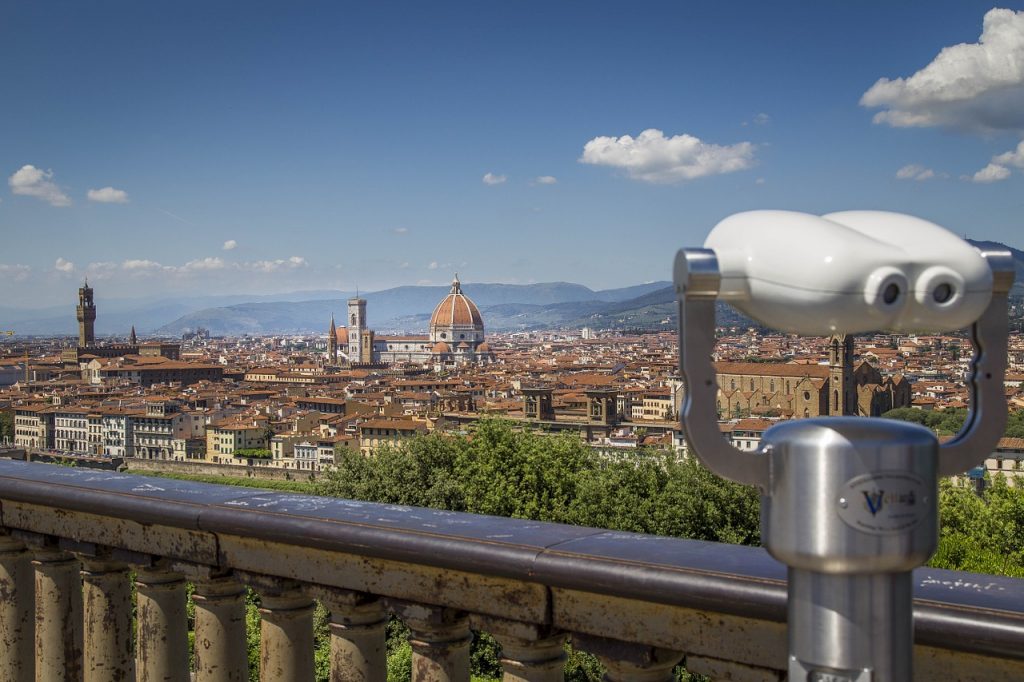 If you arrive in Florence by way of its airport, the most economical way to reach the center of the beautiful Tuscan capital is to take the Florence airport shuttle.
The Florence Peretola Airport is the international airport of Florence, located four kilometers from the city center. It is the second-busiest Tuscan airport in terms of passengers after Pisa International Airport. After a long flight, avoid the stress of trying to figure out public transportation (where do you buy bus tickets? where is the bus stop?) by taking the Florence airport shuttle. The process is smooth, with your reservation taken care of before your departure and clear instructions on your voucher about where to meet the shuttle driver. Keep in mind that public transportation will not drop you off directly at your hotel, so you will need to either walk, take a taxi or another bus to reach your destination. This is not a good idea if you have heavy luggage to haul around. The airport shuttle will get you right at your hotel, avoiding the hassle of public transit.
Want to know more? Read on for details on how the Florence airport shuttle works.
How the Florence Airport Shuttle Works
Go to Select Italy's Florence Airport Shuttle page. Select the service you'd like to book from the drop down menu on the right: "from airport to hotel" or "from hotel to airport".
Select the date, time of pick up and number of people requesting the service. Provide hotel and flight information, and passenger name (one for the party). Book.
*Please note: reservations made less than five days before date of service will incur a $10.00 rush fee. It makes sense to reserve as soon as your travel plans are finalized rather than waiting until the last moment.
The Florence airport shuttle service is available 7 days a week, between 10:00am and 10:00pm for airport pick-ups and between 8:00am and 4:45pm for hotel pick-ups, approximately every 90-120 minutes.
Florence Airport Shuttle: From Florence Airport to Florence Hotel
After your reservation has been confirmed, Select Italy will send you a confirmation voucher with your reserved time. The driver will be waiting for you in the Arrivals Hall holding a sign with your name. Please be aware that the Florence airport shuttle is a shared service, therefore stops may be made at other hotels before you will be dropped off at your hotel. Journey time is approximately 30 minutes to 60 minutes, depending on traffic.
Florence Airport Shuttle: From Florence Hotel to Florence Airport
After your reservation has been confirmed, Select Italy will send you a confirmation voucher. Have your voucher ready to show the shuttle driver upon pick-up from your hotel. Please be in your hotel's lobby and ready to leave at least 5 minutes before your reservation time. The shuttle will be on a schedule and unable to wait for guests more than a few minutes. As mentioned above, the Florence airport shuttle is a shared service, therefore it may stop at other hotels to pick up more passengers. Again, journey time is approximately 30 minutes to 60 minutes, depending on traffic and the number of stops. It is wise to factor in an additional hour when choosing your pick-up time.
Please take note of the following:
The Florence Airport Shuttle does not service hotels located outside of the city center. If you are staying outside of Florence center, consider booking a private transfer.
Some hotels have restricted or no shuttle access. You will be notified prior to being charged if this applies to your hotel.
Each passenger is allowed to carry two pieces of luggage on the shuttle: a suitcase and a hand luggage. Extra luggage and special-volume items will be charged an amount equivalent to an extra passenger for each additional piece of luggage. Please book accordingly and specify how many of the passenger bookings are for luggage and how much extra luggage there will be. This is very important in order to avoid space issues and delays.
If for any reason you do not show up at the established place and time, your reservation will be canceled and you will be charged full price. If your flight is delayed or canceled, call the emergency number on your confirmation voucher to request a change of service. Same- and next-day changes are not guaranteed and you may be required to purchase a new ticket.
Essential Information About Florence Peretola Airport
Located four kilometers from the center of Florence, the Florence Peretola Airport, formerly known as Amerigo Vespucci, occupies an area of approximately 115 hectares between Castello and the plain of Sesto Fiorentino. The area, to the north-west of Florence, lies between the "Firenze Nord" exit from the highway and Florence's industrial area near Prato.
Flights departing from and arriving at the Florence airport only serve European destinations. The airport is served by major airlines such as Lufthansa, KLM, British Airways, Alitalia and Air France, and by low-cost airline Vueling.
The Florence airport is small, so it has a limited number of shops and restaurants. It features a Duty Free shop, which includes a Duty Free Food, with Tuscan and Italian products including local acclaimed wines. The tourist information office, which provides maps, brochures, and a calendar of events, is located to the left of the arrivals hall.


Comments
comments