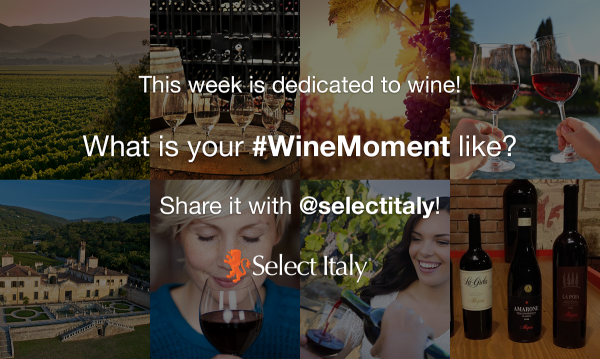 "In wine, there's truth." ― Pliny the Elder, Natural History
And also pleasant moments with friends, cultural habits, and history and tradition of a territory. A glass of wine can be more than just a glass of wine, this is what we found out from the #WineMoments you shared with us last week. Here you have a collection of the best pictures and tweets we received.
Enjoy them and thank you for participating in our #WineMoment week!
What is Your #WineMoment like?
@selectitaly A nice glass of Chianti in a cafe at Piazza Navona with the one you love! #WineMoment

— Roseann Gambale (@Roseyg917) September 17, 2014
Coming how after a long day of work and your husband has dinner and wine on the table #winemoment @selectitaly pic.twitter.com/rn8VhhwjGl — Martina Mullen (@MartiZuc) September 17, 2014
Hi @selectitaly, it's always a #winemoment here. Downstairs to the cellar, upstairs to drink in the garden :) http://t.co/1FenyMKqC0

— DopoEast (@DopoEast) September 16, 2014
RT @baracchiwinery: Harvest time #september @SilviaBaracchi #winery #cortona pic.twitter.com/vMlzGvmBMR #winemoment @selectitaly #winewednesday — Barbazzano (@Barbazzano) September 17, 2014
Harvest is almost here! Are you ready for your #winemoment? @selectitaly pic.twitter.com/2N6qZw4YpL — AllegriniWine (@AllegriniWine) September 19, 2014
I combine my #WineMoment with my #StudyTime ! Simply the best @selectitaly #Wine #WineLover pic.twitter.com/4UqyXuaIWV — Beatrice (@bea_sartori) September 19, 2014
Am I a bad person for using an expensive bottle in my coq au vin? I hate drinking red wine; cooking it, much better. #winemonday#WineMoment

— Jenner Michaud (@JennerMichaud) September 16, 2014
A Few Words From The Expert…
"Sharing a glass of well-made wine with friends, family, and loved ones is transcendent; it brings people together and often plays a central role at our most important of occasions. In the moment that the bottle is opened, the wine, which has a rich story of its own, becomes a part of your story. This is the beauty of a #winemoment and it is the experience that each of our food and wine services, such as a toast between the vines at Villa della Torre with Allegirni or a lunch on the terrace of San Polo, has been carefully constructed to create for travelers."
If you're visiting Italy and want to experience real Italian wine moments, check out our Wine Roads of Italy.
Do you have any questions about Italian wine? Leave a comment for our Food and Wine Specialist Martina!
Comments
comments